Introducing Destei's original cartoon illustration of a cute standing Boston Terrier breed dog. The design is available in multiple different coat colors and on numerous different kind of product types starting from T-shirts and leggings to pillows, blankets, shower curtains, pet ID-tags and more.
Welcome to see the Boston Terrier section to start shopping.
About The Design
Destei's cartoon illustration of a Boston Terrier dog breed features a cute dog standing and looking towards the viewer. The dog has a pleasant face expression. The ears are big and pricked up while the eyes are rather large in size. The tail is really short. The legs are rather long and thin mimicking the look of a Boston Terrier in reality while keeping the cartoon look to them.
To me Boston Terriers look a lot like French Bulldogs, so I put a lot of effort in the overall shape of the dog to try and distinguish it from Frenchies. For example, I find that Boston Terriers are a bit more slender looking than French Bulldogs. I also focused on the dog's nose and nostrils as they look different to me than on non-short muzzled dogs.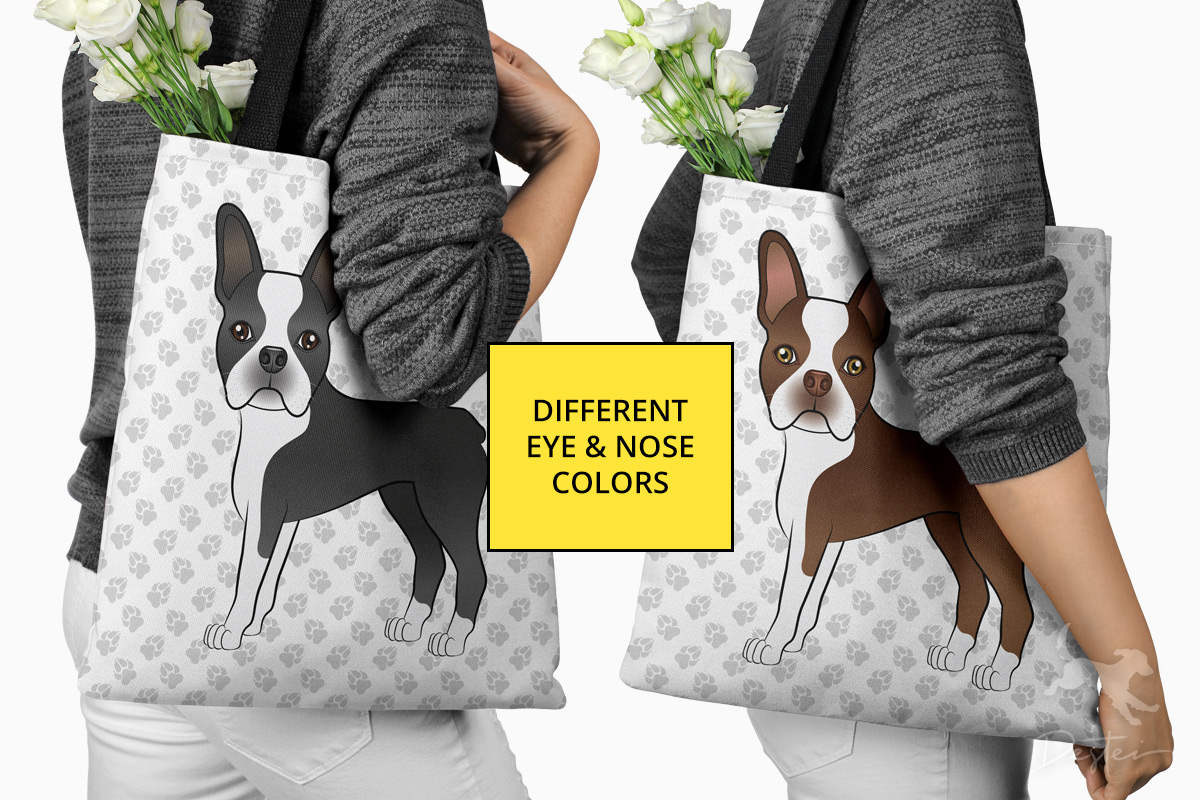 This Boston Terrier dog design comes in six different coat color options:
Black And White
Blue And White
Brindle
Chocolate And White
Fawn And White
Red
Besides the coat colors being different, there are also differences in the dog's eye and nose colors as well. For example, the black Boston Terrier has a lot darker pupils than the chocolate one. The black Boston Terrier also has a black nose while the chocolate one has more of a brown / red nose. Each color was carefully designed to match their real life counterpart as well as possible.
A Warm Thank You
I want to thank all customers who has bought my previous Boston Terrier art on any of the available products. It means a lot to me when you support my work, so again, thank you. I hope you all will like these new illustrations as much as you have the old one.