Disclaimer: The product links in this post will direct you to Destei's Zazzle store. Destei may receive commission, if you make a purchase from the links used in this post.
Description
Destei's original cartoon illustration of a cute French Bulldog breed dog that is sitting and looking towards the viewer. The design is available in 16 different coat colors and on numerous different product styles starting from clothing and home decor items to pet supplies, stationery, mugs, phone cases and more.
Personalized products
Many of the products available on Zazzle have an easy to personalize text template on them. This means that you can write your dog's name, your own name or some other custom text on the item. Make the products truly special by personalizing them.
---
Shop By Category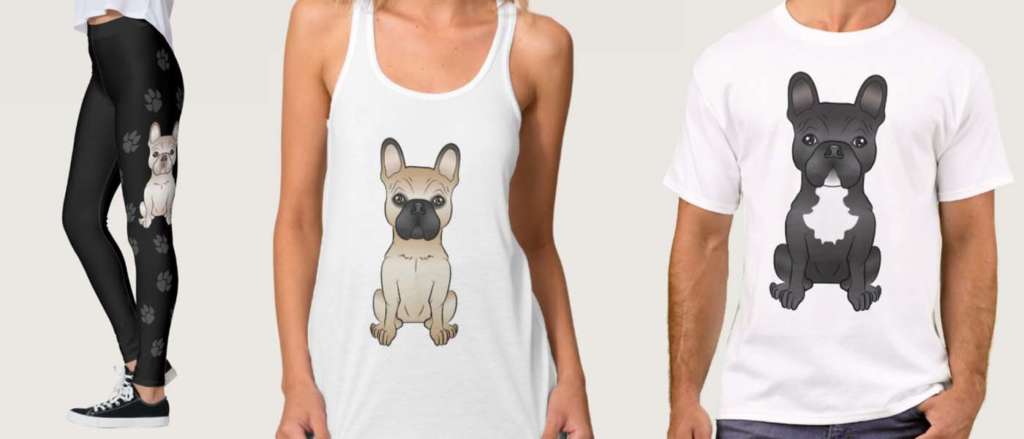 French Bulldog Clothing
Express your love towards French Bulldogs by wearing clothes featuring cute French Bulldog designs. Buy French Bulldog design T-shirts, leggings and hoodies, for example.
Shop French Bulldog Clothing On Zazzle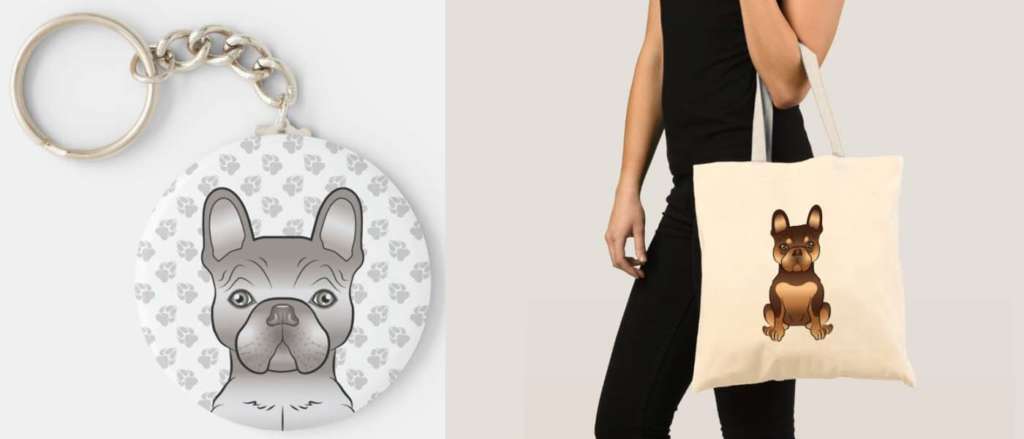 French Bulldog Accessories
A true Frenchie lover will be sure to enjoy checking out the time from a French Bulldog design wrist watch, carry their belongings in a cute Frenchie design tote or keep their keys organized with the help of an adorable French Bulldog design keychain.
Shop French Bulldog Accessories On Zazzle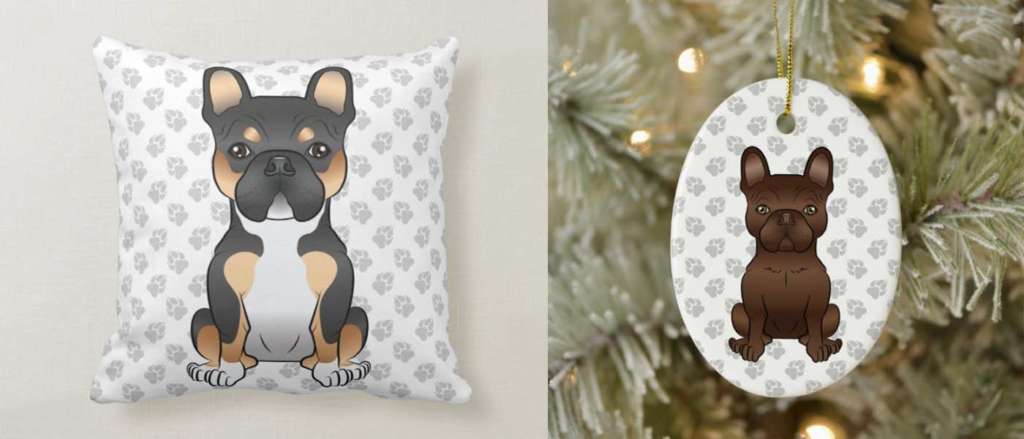 French Bulldog Products For The Home
A home with a Frenchie in it totally calls for cute French Bulldog design throw pillows and blankets around the couch, don't you think? You can also shop cute French Bulldog design kitchen towels, mugs, aprons and more.
Shop French Bulldog Home Decor On Zazzle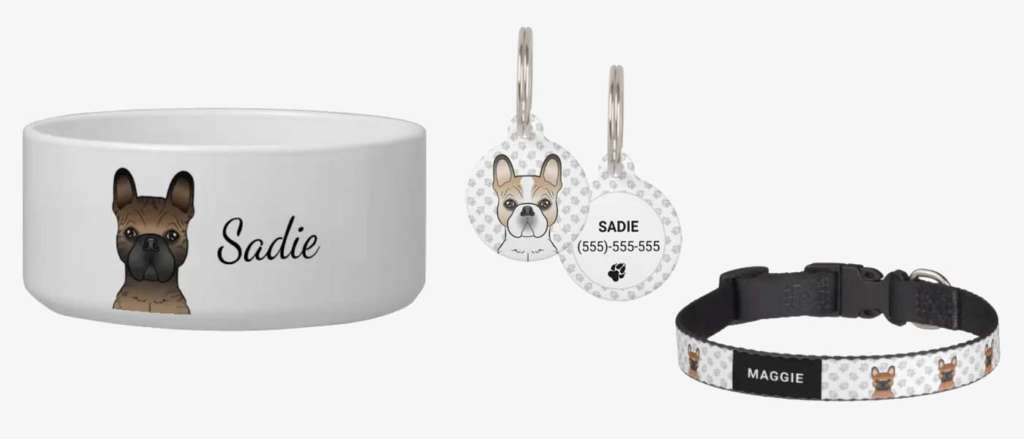 French Bulldog Pet Supplies
Get your pup his own cute French Bulldog design pet bowl which is perfect for dinner time or you can offer your dog his water from it. There are also adorable French Bulldog pet tags, dog beds and more Frenchie design pet supplies available. The products are easy to personalize with the name of your dog. You can make each item truly special this way.
Shop French Bulldog Pet Supplies On Zazzle
---
---
About The Design
Cute new design for French Bulldog lovers and owners is now available. Shop the new Frenchie design and its sixteen different color variations on T-shirts, hoodies, leggings, pillows, phone cases, pet bowls and all kinds of products. Find the perfect gift for that Frenchie lover in your life.
Lately I have been loving French Bulldogs thanks to some adorable ones I have seen both online and in our local dog park. I think that there is just so much cuteness and character in such a little package. Thanks to my recent Frenchie love I couldn't resist drawing this breed again so here we are with a brand new French Bulldog design.
In this design the French Bulldog is pictured from the front in a sitting position. I wanted to capture that small and stocky body of theirs in a different way than before.
Destei's Frenchie Colors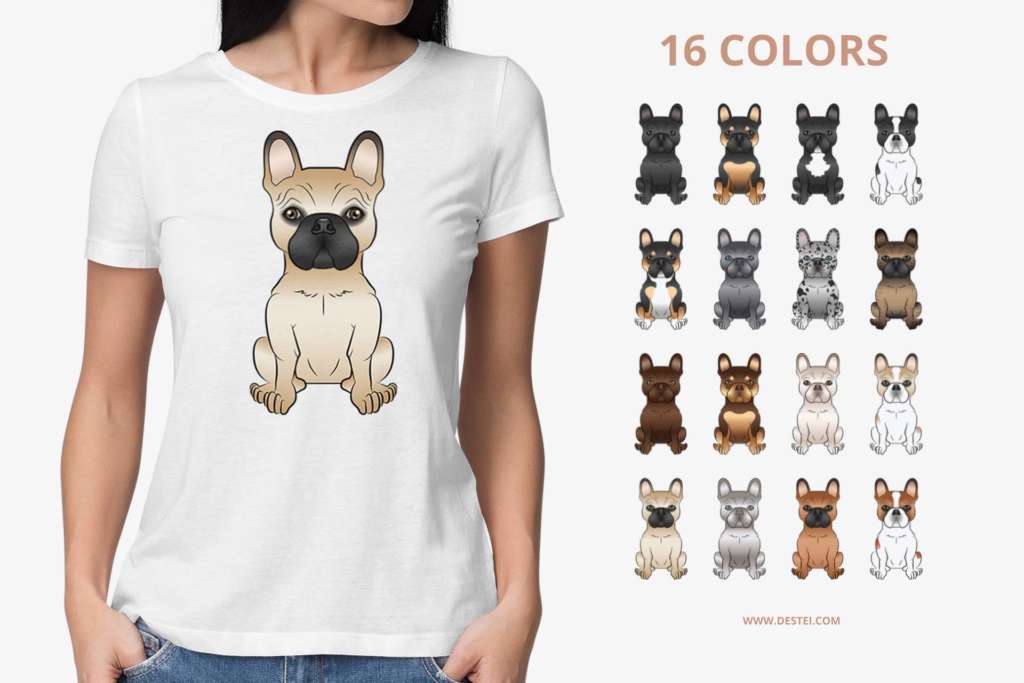 If you are familiar with the French Bulldog dog breed, you might know that it comes in multiple different coat colors and patterns. There are solid colors such as black, blue, chocolate, isabella and fawn. Then there are Frenchies with different kind of markings such as merle, tan, sable, brindle and piebald. Take any of the solid colors and combine it with the markings and all in all, you end up with numerous different looking French Bulldogs.
Because French Bulldogs are such a popular breed (second most popular in US in 2020 according to American Kennel Club), I decided to create the largest color selection I have ever made for this breed. You can find Destei's new French Bulldog illustrations in sixteen different coat colors at the moment. I hope that this large selection of colors enables for you to find the kind of Frenchie look that you prefer the most or the kind of Frenchie that you have in your life.
Below is a list of all the sixteen available French Bulldog coat colors designed by Destei. You can click the links to start shopping on Zazzle immediately. Which French Bulldog color is your favorite?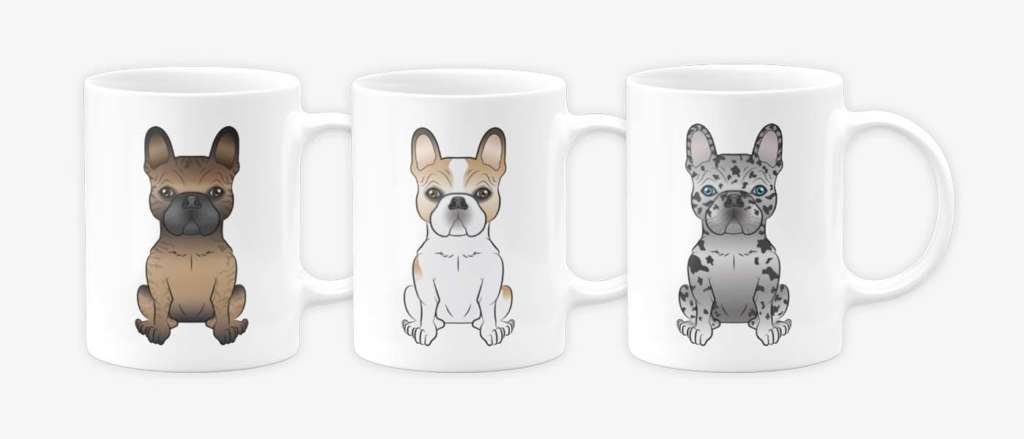 I also put a lot of work in the colors of the dog's eyes and nose. I wanted these features to match the dog's coat. You will see a blue merle French Bulldog have beautiful bright blue eyes while a black Frenchie has deep dark brown eyes, for example.
---
Whether you are a French Bulldog owner or admire them from a distance like I do, you might like Destei's new French Bulldog illustrations that are available on various products. You can shop Destei's French Bulldog dog design products for both people and dogs alike. Shop French Bulldog T-shirts, hoodies, leggings, mugs, tote bags, phone cases, pillows, blankets, pet bowls, pet ID-tags and more. Destei's new French Bulldog design comes in sixteen different coat color and pattern options.
---